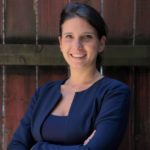 Buon giorno!
 My name is Virginia and I grew up in Turin, Italy, a beautiful city surrounded by the Alps. Since I was child I had the chance to travel a lot, first with my family and then on my own, exploring the world and trying to learn as much as possible about other cultures including their language, make new friends, and enjoy discovering different foods.
 Languages have always been an important part of my life and I strongly believe that being able to speak more than one language is one of the most powerful tools one could possibly have. After studying and living for many years in Lyon, France, and  Montréal, Canada, I'm glad I have the opportunity to teach French and Italian at Aux Trois Pommes and hopefully share my love for languages with all of my students!
There is always a good reason to learn a new language! Whether you are planning your next trip to Italy and you want to be able to order the best pizza you will ever have, or because you know how important it is for your children to be exposed to different languages from a young age, join us at the school and learn more about the many languages available and amazing teachers that will guide you in this new adventure!
 A presto,
Virginia