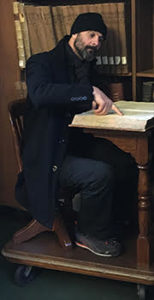 Bonjour à vous ! My name is William Huré.
I am a French native who grew up in Paris, the city of light.  My life's journey has taken me from France to the United States, in the company of my wife who is a lector at Yale University.  I would be delighted to share my professional skills during my stay in the US. I am passionate about theater and films, and have experience in writing, producing, directing, and editing short films. I also worked in the famous advertising agency Publicis and conducted fine art projects designed for children and teenagers. 
I tutor all levels of French and will tailor lessons to the specific needs and learning style of the student. Lessons need to be fun and motivating for you to make progress, and I will always aim for you to enjoy the lessons, be challenged, and to work at a pace that you are comfortable with and which suits your goals. 
I will be pleased to help you in your future French immersion experience  at Aux 3 Pommes.
Heureux de vous retrouver et à très bientôt.
William Huré
Anne-Francoise Bewley | Marie-Jose Babouder-Matta | Nassira Zeroil | William Huré