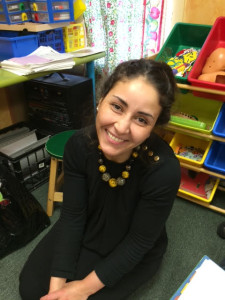 My name is Nassira Zeroil. I grew up and studied in Paris. I have a master degree in French literature, with a specialty in Francophone Literature. I have also prepared for a teaching certification.
During my studies, I taught French to middle and high school students for six years, and gave tests and evaluations skills to students in preschool and elementary school. During my University years, I enjoyed tutoring college students
My favorite parts in teaching are the transmission of  knowledge and the interactions between students and teachers. It is a pleasure to give the best I have and to share our French culture.
My two main passions : French literature and French pastries.
When I got married and joined my husband in West Haven, I discovered a new country, amazing food, and a multi-cultural environment. My English is a bit tentative when speaking, but I love reading it and one of my favorite author is Paul Auster.
I have a child, his name is Samy and I hope he'll speak several languages.
I am looking forward to meet you. Bien à vous,
Nassira Zeroil
Anne-Francoise Bewley | Marie-Jose Babouder-Matta | Nassira Zeroil | William Huré