Hi, my name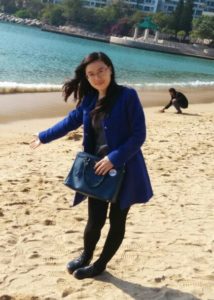 is Linhui Guo (郭琳惠), and I was born in Handan, the capital city of  Zhao during Warring States Period in ancient China. It is also a well-known city where many Chinese idioms originate from, such as "邯郸学步"(Handan toddler). Not surprisingly, I have strong interest in language learning and the diverse culture behind it.
Then I obtained the Bachelor degree in English education at a Teacher's college and got a teaching certificate after graduation. During this time, I studied many courses that trained me to be a teacher, such as pedagogy, psychology, to name a few. Besides English, I also learned German as a second foreign language. Moreover, I also worked as a practicing teacher at a middle school for more than one month. As an English teacher for two classes of all together 105 students, I conducted the whole process of giving lessons, correcting homework, designing examination papers and tutoring students during their self-study time. Busy as I was, I felt much gratified to work with children and help them make progress. Then I further my study in Beijing Language and Culture University (BLCU) and got a master degree in foreign linguistics.
BLCU is a desirable university for thousands of foreigners to study Chinese. I enjoy the atmosphere of students from all over the world learning and communicating with each other in a foreign language. Three years in BLCU enables me to learn more and have a preference for multiculturalism. After graduation, I started my career as a director of English Teaching & Research Center at a training school in Beijing for one and a half years. During this time, my colleagues and I have worked collectively and successfully on designing academic courses, giving English lessons as well as building an educational database system.
In September 2015, my husband and I came to New Haven to start a new journey. And I am very happy to work in AUX 3 to continue my teaching and share with all my students the joy of language learning as well as the profound and brilliant Chinese culture!